Contrada MARONE CENTRO
MARONE Marù
Cosa significa: trae il nome da "marra" zona paludosa, di cui "marone" è accrescitivo: grande palude. Oppure da "marù" cavalli di color castano, che un tempo trasportavano bagagli e passeggeri attraverso i valichi per la Vallecamonica
What it means: it takes its name from "marra" swampy area, of which "Marone" is the accretive: Great Swamp. Or from "maru" of brown-colored horses, which in past carried luggage and passengers through the passes for Vallecamonica
TERRITORIO STORICO
Marone si adagia sulla riviera bresciana del Sebino, alla foce dei torrenti Opol e
Bagnadore. Si compone di o
tto contrade, storicamente riconosciute dalla Comunità:
Marone Capoluogo, Ariolo, Collepiano, Montemarone, Ponzano, Pregasso, Vesto-Gandane e Vello.
Un tempo doveva essere una zona paludosa. Il luogo era già abitato in epoca romana. Nel Medioevo la popolazione preferì spostarsi nei centri di Pregasso, Vesto e Collepiano, questi ultimi sono ancora oggi intersecati dalla strada Valeriana.
La costa rimase incolta e abbandonata fino all'intervento dei monaci Benedettini. Con Alberto da Prega
s nell'anno 1000 fu ottenuta l'investitura del castello. Con
l'affermarsi di Venezia dopo la metà del 1400 inizia un periodo economico florido. Lo sviluppo del borgo iniziò nel XVI secolo attorno all'ampliamento del porto e della parrocchiale dedicata a San Martino e all'Immacolata Concezione, con la conseguente decadenza di Vesto e Pregasso. Successivamente dopo la caduta di Venezia e l'adesione alla Repubblica Bresciana, divennero attività prevalenti la lavorazione della lana, la produzione dei feltri e l'estrazione del minerale dolomia. Con l'Impero Austroungarico vennero migliorate le vie di comunicazione, completando nel 1850 la strada costiera per Pisogne. Il comune di Vello, perde la propria autonomia nel 1927 e viene aggregato al comune di Marone.
Historic territory
Marone lies on the Brescia shore of Lake Iseo, at the mouth of Opol and Bagnadore streams. It consists of eight districts, historically recognized by the Community:
Marone Capital City, Ariolo, Collepiano, Montemarone, Ponzano, Pregasso, Vesto- Gandane and Vello.
Once it was a swampy area. The place was already inhabited in Roman times. In the Middle Ages the population preferred to move to the Pregasso , Vesto and Collepiano, the latter are still intersected by Valerian street. The coast remained uncultivated and abandoned until the intervention of the Benedictine monks. With Alberto da Pregas in the year 1000 it was obtained the investiture of the castle. With the rise of Venice in the second half of 1400 begins a prosperous period. The development of the village began in the sixteenth century around the extension of the port and the parish church dedicated to San Martino and the Immaculate Conception, with the consequent decline of Vesto and Pregasso. Subsequently, after the fall of Venice and adherence to the Republic of Brescia, the wool processing, the production of felt and the extraction of the mineral dolomite became predominant operations. With the Austro-Hungarian Empire, the roads were improved, completing in 1850 the coastal road to Pisogne. The town of Vello lost its autonomy in 1927 and was aggregated to the municipality of Marone.
Cosa c'è da vedere What to see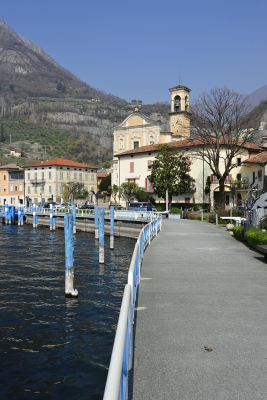 1. La Chiesa parrocchiale dedicata a San Martino di Tours e all'Immacolata Concezione del XVII secolo
The parish church dedicated to St. Martin of Tours and the Immaculate Conception of the seventeenth century
2. Il Lungolago che si sviluppa dal parco del Centro Civico don R. Benedetti fino al Parco del porto Rosselli (info-point)
The Promenade which extends from the park of the Civic Center Don R. Benedetti up to the port Rosselli Park (info-point)
3. I resti di una villa romana in località Co de Hela (Vela) sulla strada che porta a Sale Marasino
The remains of a Roman villa in Co de Hela (Sail) on the road to Sale Marasino
4. La novecentesca Villa Vismara
ora sede della biblioteca con il Parco degli Ulivi
The twentieth-century Villa Vismara n
ow municipal library with Olive trees
5. Parco giochi: all'interno del Parco Rosselli, vicino al piccolo porto
Playground: inside the Rosselli Park
, near the small harbor
6. Spiaggetta pubblica libera attrezzata in prossimità dei campeggi
Free Public beach equipped near the campsites
7. Pista pedo ciclabile per Sale Marasino e per Vello
Cycle pedestrian road for Sale Marasino and Vello
8. Sentieri: strada acciottolata che porta a Montemarone
Paths: cobbled road to Montemarone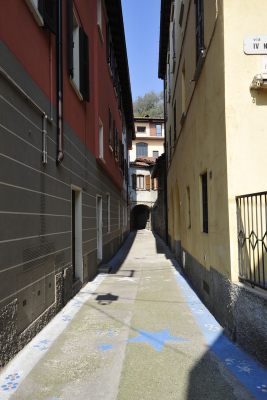 9. Piazze: antico nucleo abitato di epoca medioevale con un lavatoio, antico mulino Panigada (proprietà privata) e la strada acciottolata "Antica via dei Molini" che porta a Ponzano
Piazze: ancient inhabited nucleus of the Middle Ages with a washboard, old mill Panigada (private property), and the cobbled street "Antica Via dei Molini" that leads to Ponzano
10. Complesso industriale ex Cittadini
Former industrial complex Citizens
11. Cittadella della Musica e dell'arte - Sala Teatro della Comunità Parrocchiale
Citadel of Music and art - Room of the Parish Community Theatre
Ricorrenze
"Mestieri e Tradizioni sul lago" a maggio / Camminata enogastronomica "Sapori e Sentieri" a giugno / "Festa S. Pietro e Paolo"
- sagra del Casoncello e dei capù a giugno / "Sardinata" a luglio / "Festa della Madonna della Rota" a agosto / "Festa Patronale di Santa Eufemia a Vello" a settembre / "Festa dell'olio Novello ed Enogastronomia del territorio" a novembre / "Festa patronale di San Martino di Tours" e Palio delle Contrade a novembre / "Feste dedicate alla Madonna" che dal 1950 si svolgono ogni cinque anni / "Grande Presepe popolare" a Marone e a Vello a dicembre
Celebrations
"Crafts and Traditions of the lake" in May / Food and wine walk "Flavours and Paths" in June / "Feast St. Peter and Paul" - festival of
Casoncello and CAPU in June / "Sardinata" in July / "Festa della Madonna della Rota "August" / "Patron Saint of Santa Eufemia in
Vello" in September / "New Oil Festival and Food from the region" in November / "Festival of St. Martin of Tours" and Palio in November / "Celebrations dedicated to the Virgin Mary" that since 1950 are held every five years / "Great People's Nativity" in Marone and Vello in December
cartina Marone centro
[492 KB]